UPDATE: DarkMirage will be handling the interview for May'n, and fan questions are encouraged to be sent through the AFA08 website.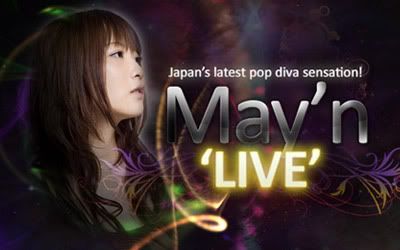 May'n and Koji Morimoto will go? If Kanno's going I think I may have to book my tickets to Singapore right now XD
Using the AFA website, you may send a note to May'n for her visit. According to DarkMirage, May'n will perform at least 7 songs. They are also going to handle the interview of May'n, for which they are currently asking fans to send in their questions.
Here's a description of the event lifted directly from the AFA08 website:
For the first time ever in South East Asia, Singapore will celebrate the diversity of Japanese Pop Culture.

Taking place on the 22nd and 23rd of November 2008 (Saturday and Sunday) at the Suntec International Convention and Exhibition Center, Anime Festival Asia 2008 (AFA08) will showcase a wide array of Japanese Pop Culture related content, spanning over 5,000 sqm of space with 6 experience zones: Akiba Town, Anime Live, Anime Blockbusters, Industry, Mangaka and Planet Mech, where visitors will gain access to exclusive content, merchandise and live acts straight from Japan.

The festival targets children, youth, adults and industry visitors both locally and from around the region – with an expected turnout in excess of 80,000 visitors.

Anime Festival Asia 2008 (AFA08) is organized by I-Promo Events & Marketing in partnership with Dentsu Singapore. AFA08 is sponsored by Bandai, Japan's leading toy manufacturer, with Animax as the official regional media partner.

(snips)

"Anime Festival Asia will be an exciting experience for everyone in the family! There is a program-packed line-up at "Anime Live", where activities on stage will include an exclusive premiere of an anime short from "Genius Party Beyond", the latest anime feature movie from Studio 4¡C. AFA08 will also have character appearances, music performances and competitions of all kinds related to the anime industry. There will also be live talk shows where anime enthusiasts can meet the creators of their favourite anime. Manga fans will also have a chance to enter the world of the artist with a display of never before seen sketch arts in the "Mangaka" zone. "Planet Mech" will appeal to robot fans who can get up close and personal with a Gundam Seed Destiny diorama display; and the list goes on," said Anthony Kang, Chairman, Dentsu Singapore and Chairman of AFA08.

(snips)

KOJI MORIMOTO ("The Animatrix – Beyond") Studio 4degree Founder and Animation Director and MARIMI SAKURAI (Project Manager, Studio 4¡ (Four Degrees) are the first two speakers confirmed for the "Anime Live" talk shows.

Anime Festival Asia '08 will be held at Suntec International Convention and Exhibition Centre, Halls 403 and 404 from 10.00 am to 9.00pm. Tickets can be purchased at the door at $5 (1 day) and $8 (2 days). Children under 6 years of age enter for free. Visit www.afa08.com for more details.
This write-up of May'n has been presented at a news conference in Singapore (source: The Bonkurasu Brigade)
Japan's latest pop diva sensation – May'n will be performing 'Live' at Anime Festival Asia 2008. Performing her latest music from the hit Macross Frontier anime series, catch her at AFA08 for her first ever music performance outside of Japan.

May'n is one of Japan's latest pop diva sensations. Currently 18 years old, her wish is to sing songs that can touch everyone's lives. Singing since the tender age of 3, May'n topped the "Horipio (sic) – Talent Scout Caravan – Love Music – Audition" when she was 13 and came up tops from a total of 35,000 contestants.

In 2008, she took on the role of Sheryl Nome as the diva character in the highly successful hit animation series "Macross Frontier". In early May 2008, her CD single release "Diamond Crevasse" topped Japanese Oricon charts at No. 3 – Her CD lauch event was so successful that it became the most well attended in the history of the Japanese music scene. Her next CD single released in August 20th 2008 "Lion", again topped the Japanese Oricon charts at No. 3 – acheiving 2 consecutive single releases at No. 3.

Possessing a natural talent for live shows, coupled with her unique and dynamic vocal abilities, May'n takes pride in engaging her audiences profoundly during performances.

Get ready for her stunning performance at Anime Festival Asia 2008!
Related Articles: