The internet is fast, but not as fast as I expected, but here it is!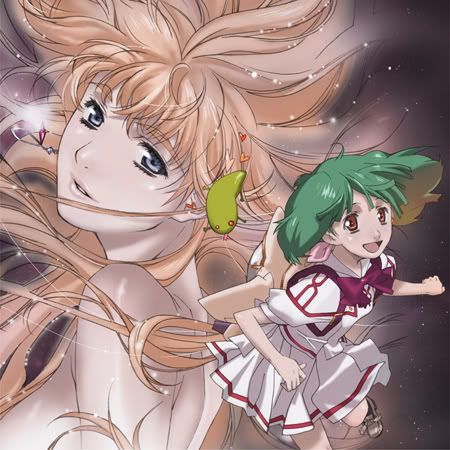 Most of these are vocals, and I suppose I don't need to review them so I'll just place where the songs were used if it's already known.
If you guys don't want to read the review, all you have to read is this: I love it, it's been a while since I heard a Kanno OST sound this epic! There are some missing pieces which assure us that there will be a second OST, so it's not that bad that the enemy-is-attacking scathing-violins-piece is not in here
By the way, we're back with the Warsaw Philharmonic Orchestra for the BGM
1. Frontier 2059 - Intro BGM, as everyone has initially guessed. It starts off darkly and quietly, definitely good for a narration, the deep sounds invoke the image of the vastness of space. The music then builds up nicely, and then finishes quite abruptly.
2. Welcome To My FanClub's Night! (Sheryl On Stage) - Don't let the title of this song fool you, it's Sheryl's most epic song. It starts off with violins, then develops into a fast-paced pop song. The mysterious feel is carried over to the first verse, then is shed off momentarily in the refrain to return in the verses. In my opinion, the lyrics made it a bit cheesy, but I can forgive that
3. What 'bout my star? (Sheryl On Stage) - This one blends nicely with Welcome to my FanClub's Night, making you feel as if you are watching a real concert with a real audience getting riled up in between songs. It also has a concert hall echo effect. This song definitely sounds ditzy, but then it's pop, and it's catchy and that's the point! *dances*
4. Don't be late (Sheryl On Stage) – And this perhaps is the first song we ever heard from Macross Frontier. I love it, it's very energetic
5. Vital Force – Where was this played? I sure don't remember but I think I should… It's a pretty grand piece of wind instruments. The piece is punctuated by drums and violins, building tension, and then, ends more abruptly than Frontier 2059.
6. Triangler – And now our very energetic intro song, the Maaya and Kanno reunion song! I thought that this song was sang in Ranka's perspective, but based on the CD Jacket, it's the theme song of a TV drama involving Hikaru, Misa and Minmay.
7. Zero Hour – This piece is trance-y and very Ghost in the Shell: SAC in feel. My memory is so dim. It sounds like a techno version of one of the BGM, "Take Off" is it? I love it this piece.
8. What 'bout my star? @Formo – This is Ranka's gutsy Formo performance in front of people who don't even know her. It's What 'bout my Star arranged in a more down-to-earth feel, which is fitting of Ranka's character. Very cute
At one point, Ranka's voice is synthed, and Sheryl sings after, providing a good transition. Ranka's wailing at the background is hair-raising. Megumi's English is also pretty good
9. Innocent green - This is the scene where Sheryl gave Alto the tickets. Of course you know that's not the highlight of the scene. It's a very sweet piece. Some fans mentioned that it's similar to the bgm of Genius Party's Baby Blue. Innocent Green = Baby Blue? Haha. The piece is joined by violins in the middle and the end, to make a cliffhanger-like feel.
10. Aimo – Ranka's song with some chorus effects, a celesta, and some strings at the background.
11. Big Boys – This is the Pirates of the Caribbean inspired track (listen to "Will and Elizabeth"), used in one of the launch sequences and also when Alto saves Sheryl from falling from the roof of the school. It's kind of a lighter take on the POTC bgm, and it's very short.
12. Private Army – This one has to be the first bgm in the series that I really wanted to have. It had a flamenco-like vibe to it, and ends in some strong strings. It's the one played when Alto first went to the SMS base.
13. SMS Squadron Song ~ That Girl is an Alien - This is the macho SMS squad chant, which was played during Alto's training in SMS. It's got a light-hearted feel to it, definitely a good comic relief from all the heavy bgm. Supiido, Mirakuru, Supeishi!
14. Ninjiin Loves you yeah! - The carrot song, performed by Ranka in her mall advertising gig. Another quirky song, but poor Ranka, promoting vitamin-rich carrots?!
15. Super Dimensional Chinese Restaurant Nyan Nyan CM Song Ranka Version – This is the background song in the eyecatch, except Ranka sings it instead of Minmeh, and there's no "Oishii Nyan!" at the end. This and the 2 previous songs make up the "comic" side of this OST.
16. Alto's Theme – Now this isn't what I imagined Alto's Theme to be, it's a bit tragic-sounding, which reminds of his past as a kabuki actor. I was thinking of something that sounds either brave or rash for his theme.
17. TALLY HO! – This is another one of those "when was this played?" bgms, the song is tense which makes a good battle theme, but I can't pinpoint exactly where. It tones down a little in the middle, and starts gaining faster tempo again with scathing strings. It also has a hint of the Big Boys melody thrown in it towards the end.
18. The Target – "Our lead characters are winning!" Yes, it's that bgm. It ends with heaps of tension though, making you feel that it's not over.
19. Bajura – "Our enemy is here, but we don't know where…"
20. Kirakira – This is a piano piece that evokes the childish feeling of discovering something for the first time. The orchestra joins in the end, and it sounds pretty melancholic or sad.
21. Aimo~Bird Man – Aimo with a grand orchestral background, and a hint of an ethnic vibe. You'll hear birds in the background.
22. Take Off - This is the piece you hear when you first see Alto fly in his ex-gear.
23. Infinity - This song took quite a while to grow on me, the chorus actually rocks
The verses that are quite jazzy made me change my opinions on this song, it's definitely good pop.
24. Diamond Crevasse – Of course, this is the most emotional Sheryl song there is, and is also one of the ending themes. You even get to hear a bit of that soul in her voice when she sings the low notes. I wish she sang more like that, but I suppose she was made to sing like Britney just to sound more pop.
Related Articles: