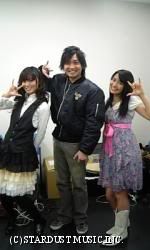 Congratulations to Megumi Nakajima for winning the Best Singing Award in the 3rd Seiyu Awards!
The partial list of winners according to ANN are as follows:
Best Lead Actor Award
Hiroshi Kamiya

Best Lead Actress Award
Rie Kugimiya

Best Supporting Actor Awards
Kazuhiko Inoue
Tomokazu Sugita

Best Supporting Actress Awards
Aya Endo
Miyuki Sawashiro

Best New Actor Awards
Nobuhiko Okamoto
Yuuki Kaji

Best New Actress Awards
Kana Asumi
Haruka Tomatsu

Best Singing Award
Megumi Nakajima

Best Personality Award
Jun Fukuyama Hiroshi Kamiya
It looks like Kamiya (Michael Blanc, Tieria Erde, Despair Sensei) and Kugimiya (Alphonse Elric, Nena Trinity) got upgraded from being the Best Supporting Actor/Actress of the 2nd Seiyuu Awards. I am not very well versed in the seiyuu world, and I suppose others might have more insight if this result is more impartial than what was rumored to be a rigged result from the previous awards (I don't care, one of our songstresses is in this one!).
Too bad Aya Endo didn't sing as Sheryl Nome, but at least Sheryl has also been represented here
Related Articles: