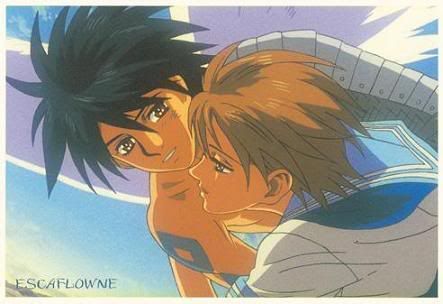 How did I miss this? I loved the Lizzard.net website and frequented the site when it first came out! Please pardon me if this is too late, but I feel a bit nostalgic listening to these lost pieces.
Notable pieces in this set are "Escaflowne Lives", which reminds the listener of the tv series, only darker. "Exploding Horse" is also pretty mysterious, and then there's "Telekinetic Brawl" which starts rather slowly and becomes powerful halfway. The ending arrangement of "Sora" is also present in this set, which is an echoing a cappella version of Sora which ends with an equally mysterious drums and piano accompaniment at the end which is to my dismay, abruptly terminated. "Time for a Battle" is another looming piece with light vocals at the start which develop to fantasy RPG-like battle music. (NOTE: The website admin gave names to the tracks for reference purposes, and are by no means official.)
Download the songs at the Lizzard.net, Extra Background Music. The scenes where these songs were played are also described in this page.
Related Articles: